U400 FOR USE IN PLANT HIRE & FENCING BUSINESS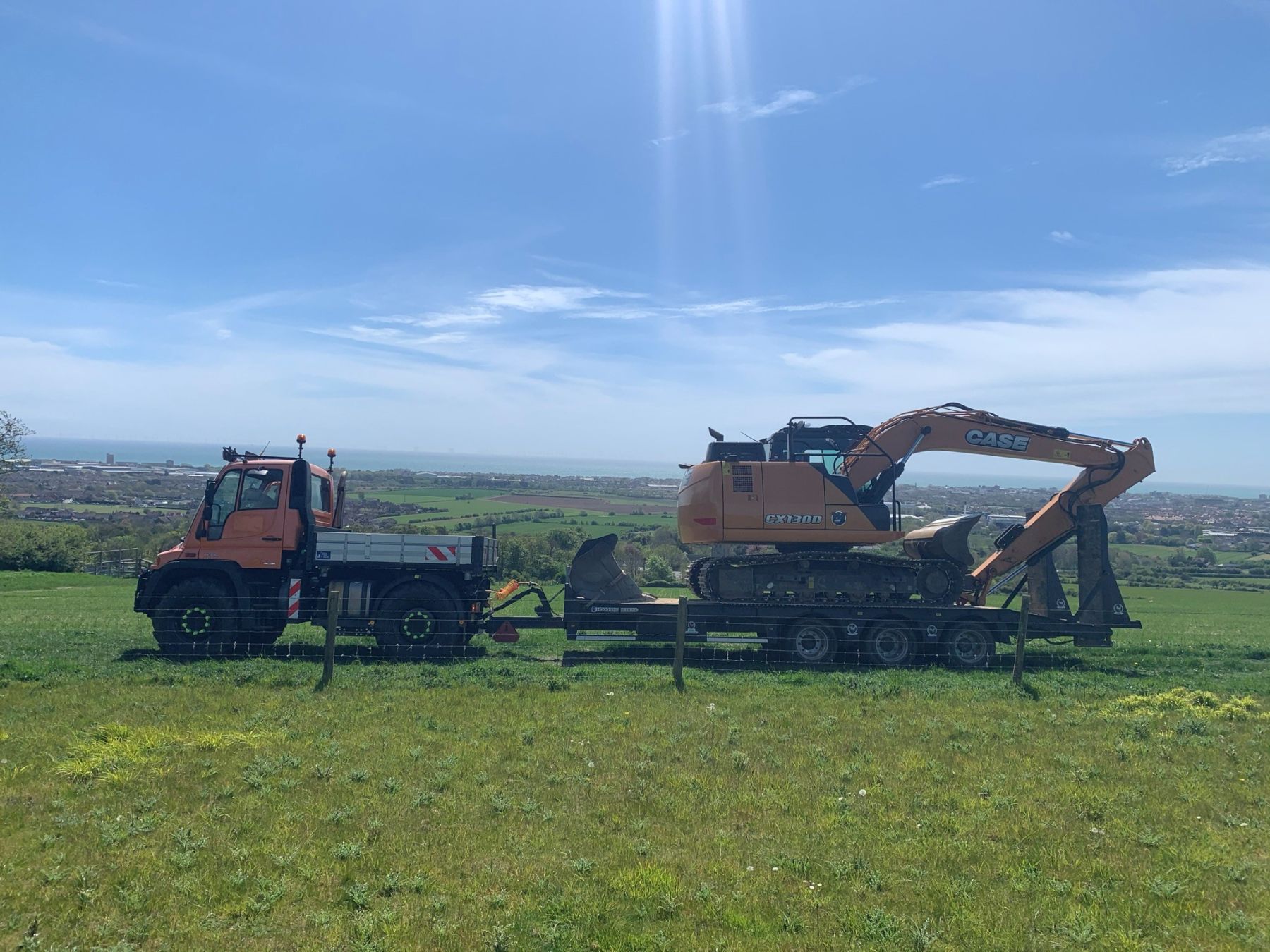 We supplied a Unimog U400 to Kieran Woods in 2020 for use in his operated plant hire and fencing business. Kieran is very pleased with his purchase. Here are a few words from him:
My interest in owning a Unimog started probably in 2006 at the time my brother ad I had started a business offering operated plant hire, fencing & lake and pond work.
Already owning a 8T excavator we were looking for a small tractor or similar to compliment the excavator and to help move kit around, and also to pull a dump trailer. So the hunt began and having driven tractors all of our lives, naturally that's what we started to look for.
On our search I came across a Unimog U1600 and being one that's interested in having something a little different I endeavoured to try and convince my brother! But with good reason and a true tractor man through and through he was having none of it! So I quickly gave up and we ended up with a small JCB 2135 Fastrac.
Then one day my brother was offered a career he couldn't turn down with the local Tractor dealership, so I was now on my own. The time came when the old Fastrac was ready to take an easier life and I was ready for an upgrade with no one to influence my decision I quickly started hunting out Unimogs and soon became acquainted with Atkinson Vos who were more than helpful in explaining any questions I had and very shortly were offering me a 2007 U400 model.
Never having had any dealings with a Unimog I thought I'd better go and spend some time with one to make sure it was the right decision, so off I set to go and visit Atkinson Vos.
When I arrived I was quickly made to feel very welcome and taken on a tour of the premises and workshop, then I was shown around the Unimog I was interested in and taken out on an extended test drive which was where the understanding and love for Unimogs began and the deal was done.
So then we all sat down and finalised the exact spec I required which was basically new rims and Ag tires a pick-up hitch and to help moving bigger kit we had a power upgrade. Despite Brexit and Covid, Atkinson Vos soon had the Unimog kitted out and out for delivery to me.
That's when the fun really began, knowing it was quite different from anything I had ever owned or driven before, I kept an open and positive mind, of course I was nervous whether or not it was the right decision but it soon became clear that not only was it the right decision but it was also an incredible bit of kit making light work of any task put in front of it.
We find the Unimog so versatile for our business one day it can be moving plant about then the next day hooked up to the dump trailer, whizz down to the builders centre and load the bed up with materials!
Moving in to the future we're looking at kitting the Unimog out with a HIAB and potentially a hedge trimmer, the possibility's seem to be endless!