Nostalgia - Frank's Blog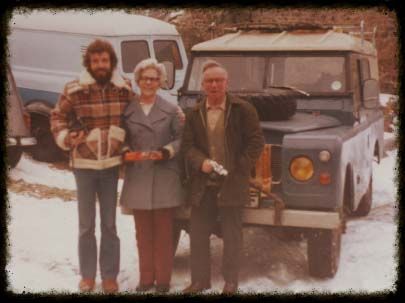 Even more old stuff comes to light…
Above is a picture of my Mum and Dad setting off for Africa in their old Land Rover. No idea who the hairy young git is? Would you buy a second hand anything from him?
I realised after the arithmetic that they were around my current age (64) - it was the late 70s and they were born both sides of the First World War! Mum is now 95 and getting a bit frail - Dad died a few years ago just short of 90 having had a good innings to use his words!
They followed our route through Sicily across to Tunis and then through El Oued to Algeria. A knackered clutch in Ghardaia held them up but they made friends with the locals whilst waiting for the parts we sent over.
They crossed Algeria via Tamanrasset and into Niger and then to Kano in Northern Nigeria. They finally ended up in Ngaoundere, Cameroun and the Land Rover finished its days usefully with a Catholic Mission over there.
They had a great time and Mum was still in touch with various friends they made en route until she lost her eyesight lately.
The moral of the story is it's never too late to travel - ideally of course.....
in an Unimog!