Nostalgia - Frank's Blog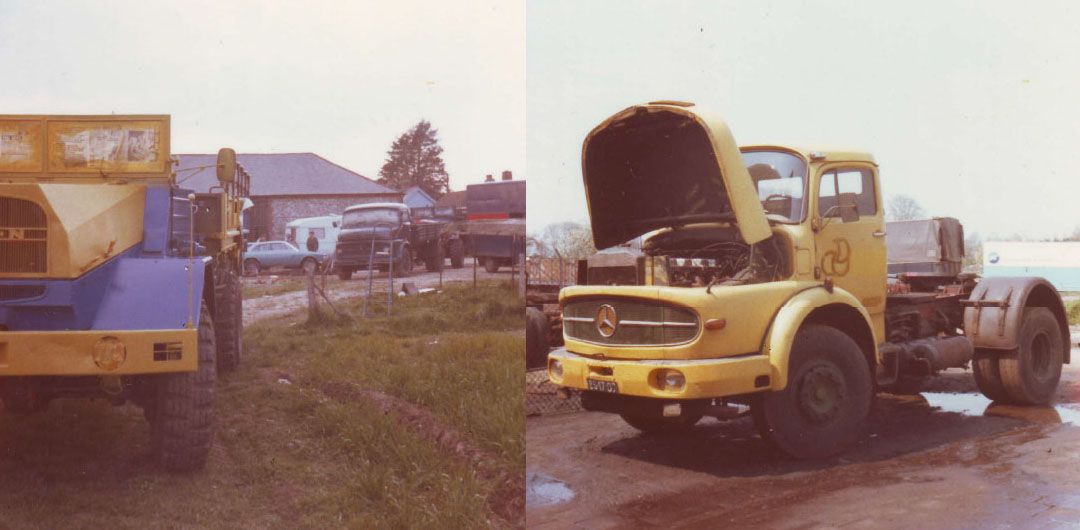 Clearing out some old stuff I happened to come across on these two old snaps so Mandi decided I should bore you with a bit of my life history. Not sure of the wisdom of her decision but here goes…
The picture half showing the old MAN 4x4 ex German army being sprayed yellow was the first truck I drove to Central Africa in nineteen seventy something.
This was the beginnings of what became Africa Link Ltd and now is Atkinson Vos Ltd. Jaap Vos is my old friend and business partner who drove a similar truck together with me. His friend Geert drove the third truck - we chopped up the fourth truck in a layby in Germany somewhere and loaded it in the back for spares.
It was superb to drive with all mod cons including a hard driver's seat and a metre long gearstick. The maximim speed was impressive at 53km/h....yes kilometres. Jaap's truck would do 54, so he was even luckier!
You can imagine how pleased the German, Austrian and Italian truck drivers were to see us up ahead on the 10 and 20 km stretches of 'NO OVERTAKING FOR TRUCKS' bits of the autobahns!
After several months of pleasant motoring across the Sahara and through the jungles of what was then the Central African Empire, we arrived at the capital Bangui. The beer was cool and the company excellent but unfortunately an attempted coup was going on - astonishingly and very sadly just like today.
We counted ourselves extremely lucky to be escorted to the airport lying flat in the back of a pickup and get on a plane back to Paris in one piece. So then we spent the profits and bought the bonneted Mercedes 1624 tractor unit and some others for trip 2 the next winter…