Get Them to the Church on Time!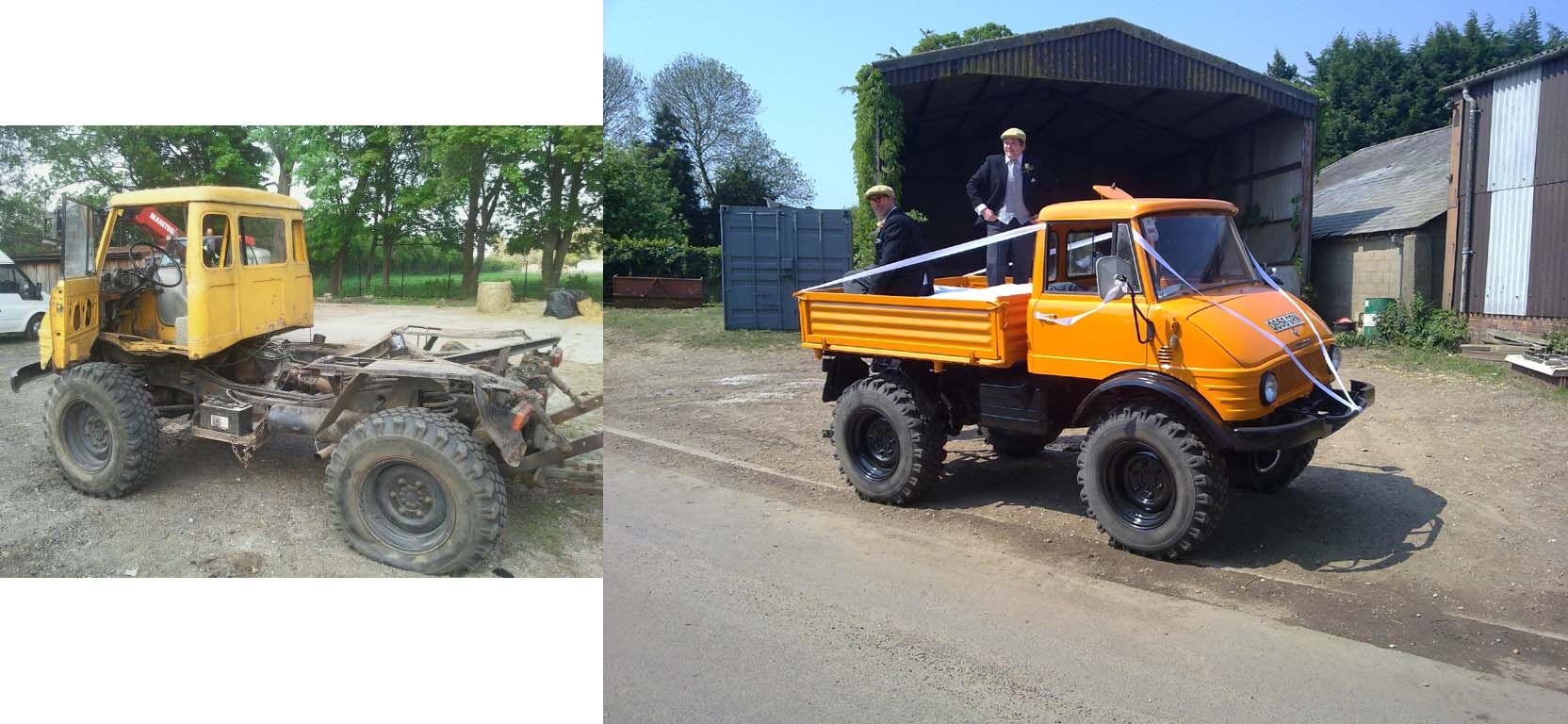 We know that Unimogs have a lot of uses, but this is a new one to me! This transformed U900 was used as a wedding vehicle to transport the groom and ushers to the church in style! As you can imagine, she drew quite a lot of attention!
We imported the Unimog from Germany in 1993. She moved on to Oxfordshire where she spent most of her life as a run around on a farm until the owner started struggling to get in and out of the cab.
She then moved on to a couple of the grooms friends who had it for 6/7 years and used her for log cart and various haulage jobs but nothing too arduous.
She then found itself with the Williams and that's when they decided to do her up and use her on the wedding day to get the ushers to the wedding.
A lot of welding and filling was required and general body work and it was decided that she should go back to her original colour of German municipal orange. For some reason the bed had been modified to be approx 2 inches forward of where it should be and it caught on the cab when it tipped! Luckily it came with two bodies and the other was original configuration so the sides were switched around for the best condition sides and a new bed was put in the back. The chassis went back to black and the new owners manufactured a mount for a swing arm crane for loading quad bikes on to the back. She had a new seat out of a Volvo 440 which is heated and very comfortable!
On the wedding day she transported the groom and the ushers from a hotel in a nearby town to the church in the upmost style! She was parked out the front of the marquee for the rest of the day and gained much attention being a very rural wedding! There were no end of requests for lifts from people trying to get from the church to the reception despite very elegant wedding dresses! She starts on the button and has stopped smoking as much now that she has had some work! The beauty of the mogs is that the mechanics are supremely reliable so very little work had to be done on the running