Congratulations Mr & Mrs Morris!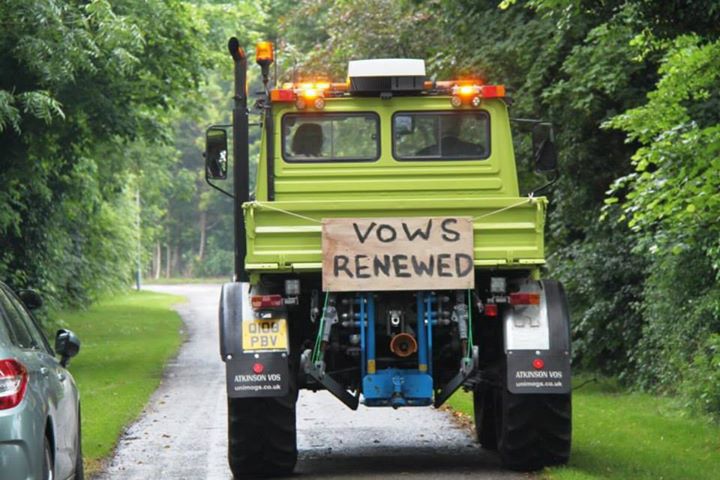 Earlier this year this bright and beautiful U1000 left our headquarters after some minor repairs. Upon checking that the Unimog had arrived with it's proud owners safe and sound we also learned that it had arrived just in time for the couple's silver wedding anniversary.
Leonard and his wife Maurene decided to celebrate 25 years of marriage by renewing their vows. The service took place on the Saturday 7th June at the beautiful grade II listed Church St Mary and All Saints in South Kyme, Lincolnshire. It was here that the couple had a special surprise in store for them that had been organised by their daughter Stephanie, son Michael and his girlfriend Katie. They had lovingly arranged for their precious Unimog to arrive at the Church during the service so the happy couple could ride back 2 miles in it to their farm where they all enjoyed afternoon tea with close family and friends. The festivities continued later that evening with more friends and family at the Village Hall in South Kyme.
"Surprising how quickly 25 years go and I'm taking that as a positive so here's to the next 25! Let's see which Unimog we get next although I suspect this one will be with us for a while; it is also 25 years of age and still going strong!" - Leonard Morris
We say, what a beautiful story and the pure coincidence of the age of their marriage and their mog calls for a double celebration! From all of us at Atkinson Vos, "Congratulations Mr & Mrs Morris & Happy Birthday Morris Mog!"